So it's been some time since I have posted. It's been a busy month, I feel like I am always on the go. There has been a lot to do for my sister's upcoming bridal shower, decorations and favors to craft. We finally finished it all up, the shower is next Sunday! I still have to block her wedding shawl, although I DID finally finish it. The knitting got a bit boring at the end, and the crochet border took DAYS. But it is done and out of the way. I have to finish the frame for her other gift. I don't have a picture of it yet, but it's a cross stitch pattern, I'll take one when it's in the frame. It's an odd size so I had to repurpose a frame when I finally found one. It's not even an actual frame with a back. So, I'll have to decide what I'm going to do with it to keep it in.
With her shawl knitting out of the way I am still working on the wheaten for my LYS, and I am working on a sample Crocus patch blanket for Knitspot. It's in their mohair blend yarn, which I discovered after they sent the yarn. Normally this would be an issue. I had NO reaction to it! It's coming out beautifully.
I also crocheted some squares for a comfort blanket, but of course forgot to take a picture of those... they were a fun distraction, I don't get to crochet much!
I am taking small knitting breaks by working on my Once Upon A Time sampler. I'm still only on the border, but that's ok. I'm enjoying it!
Michaels had a coupon for 30% off all jewelry purchases, so I stopped for some cording (for projects I want to do with the kids) and beads. I picked up some pink pearls and seed beads (I know they look peachy but they're really a soft pink), and some clear crystals and made this:
This is the video I used.
I LOVE how this came out, it's so simple but stunning. I will definitely make more of these. I also have beads on the way from Artbeads. I decided I want to make a bracelet and necklace to go with my bridesmaid dress. This is the pattern I bought to use: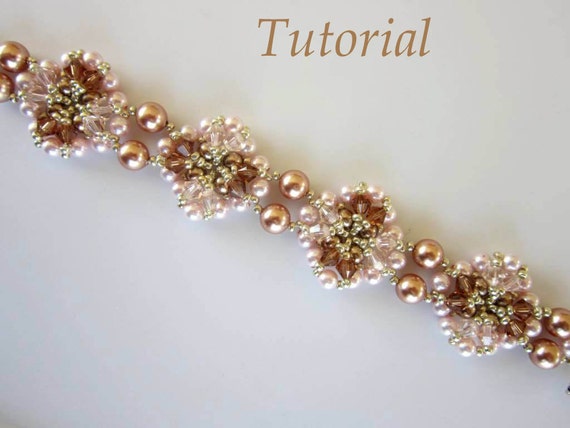 Funny enough it's by the same person who designed that other chunky pearl bracelet I made some months ago. I bought lavender and cream pearls and crystals, and I can't wait to get them!
And now for the saga...
So a few weeks ago I decided to try a deal from Amazon Local, which is a bit like groupon or the others. I had just gotten an email from them for $10 off my first deal, so I took a look around and found one for this bracelet. Here is the website:
Iris
. It was $34 for a bracelet with 5 beads and 5 charms, supposedly worth $170. (Here's a
link to the deal
, it's still up as of today) So after looking around the site, I decided I liked it enough to spend $24 bucks and try them out. I saw no really negative reviews when I did research either. After the issue I had with that Modicure company and their horrible service, I always look for reviews.
I have a 6 inch wrist, so I chose the 6.7 inch bracelet. I thought that would fit without too much drape but still leave room for the beads. I picked 5 pink beads, and 5 of the silver charms, and placed my order. They shipped it right away, within several hours I had an email with a link and tracking info. I anxiously waited for my bracelet and within a few days it came. The first thing that I discovered was that the bracelet on it's own was too small. It barely fit on my wrist, I think due to the rigid clasp area (it's a magnet). With the beads on it would not stay together, and would squeeze into my wrist. Secondly, several of the beads looked nothing like the pictures that I ordered. I was pretty disappointed in this.
So I got on the phone with their customer service. They told me they don't do return labels, but that I could reorder a new size bracelet for a discount, they're normally $40, I would only pay $8. It was that or pay to ship it back to them and wait for them to process a return and allow me to reorder. Because I got the bracelet so cheap, and wanted to actually be able to wear it (and not wait), I decided to just pay for it. I was emailed a discount code for that, and told to reply to that email with pictures of the beads I was unhappy with. I did that and used the code to order a new size bracelet. (I ended up going for the 7.5 inch which seemed huge but I knew that I lost at least an inch in size with the beads on based on how the other fit) I then discovered on the original bracelet, the magnet had fallen out of one side of the clasp. So I emailed that as well. I assume they don't check these things over the weekend, but I got a response on that following Tuesday. They agreed to replace the bracelet (of course I had already ordered the other at additional cost) and the beads. Everything free shipping.
So today I finally got all the replacements. The 7.5 inch fits pretty well, I think the smaller 7.1 inch would have been too tight with all the beads on. After all that, I'm fairly happy with the purchase. It was a little frustrating to deal with but they did take care of the problems I had. So now here are a few pictures.
The ones I was unhappy with were the daisy looking one on the bottom left (they show better in the picture than in person, they're so tiny you can hardly see them) and the two on the top right. The striped one on the site was a totally different color and you could see the stripes. And the top flower one is also the wrong color. I love the yellow orchid looking one most I think. I know it stands out but I liked it so much I had to get it. One thing I really like, is that there is an extender chain on either side of the clasp so if the magnet comes undone, you don't automatically lose the bracelet, or drop it possibly breaking one of those glass beads. This has already saved mine a few times, such as when I was putting Olivia in her car seat and tugged it loose.
So if you're willing to take a chance on that, this was a pretty good deal all things considered. Just keep in mind those murano style glass beads can vary in design by a good deal!
Well I think that's it for now. I'll post again when I have something to show!